Marissa's Wedding Dress Transformation - The Big Day
Posted by AMIT SUTHAR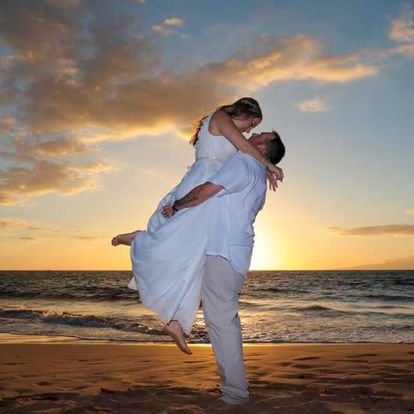 Before we jump into the final installment of Marissa's wedding dress transformation, and Marissa and Brett's "big day" we need to take a minute and go through the timeline of ups and downs that has become all too familiar to any pandemic bride.
So let's take a minute to recap the timeline...
December 2018 - Marissa and Brett get engaged! Wedding plans immediately begin.

May 2019 - Plans for a destination wedding in Hawaii are set. Wedding date is chosen: June 20, 2020 (which is also the anniversary of her great-great-grandparents wedding in 1899 and her great-grandparents' wedding in 1920).

September 2019 - Marissa officially decides to transform her mother's dress to make it her own. Right on schedule to be complete by the June wedding date.

October 2019 - Save the Date cards are sent out.

January 2020 - Friends and family begin making flight and hotel reservations . A luau is scheduled for the rehearsal dinner. We must arrive in time for that!!

March 1, 2020 - Official wedding invitations are sent out.

March 13, 2020 - Global pandemic hits...the world abruptly shuts down!
If you will remember, everyone was hopeful the world would be up and running by April or May at the latest. So in the very beginning, a June wedding still seemed like it might happen. It would be just what we needed to get over a few months of a global shutdown...right?
The months in lockdown kept ticking off. Soon, the decision had to be made to reschedule the wedding. It was then postponed until fall. Though Marissa & Brett were heartbroken to lose the June 2020 date, a new one was set for October 2, 2020.
By August it was clear Hawaii probably would still be in a strict travel lockdown by October 2. Marissa and Brett made the decision to continue with their wedding, even though the guests that would be able to attend the wedding was severely limited. Marissa, Brett, and her parents were able to go with enough time before the wedding to meet the 14-day quarantine imposed by Hawaii at that time. This wedding was happening!!
Even though it went from an "event" with lots of wedding festivities for the guests who had traveled to Hawaii, to a small, intimate wedding for four people, it was exactly what Marissa and Brett needed and didn't realize they wanted: a small, intimate ceremony on the beach with all the love they needed to celebrate their union. It was magical!
I am beyond bummed that I wasn't able to attend the ceremony. I had my tickets booked with all intensions of being there. The pandemic had different plans. Enjoy a few of my favorite memories from their amazing day!
While I know this was one day, Marissa and Brett were tested as a couple far beyond the normal wedding hiccups. But they came through it and have a bond even stronger than before. As a friend, I'm honored that I could be a big part of their special day. However, I am most looking forward to many years of adventures that are Marissa & Brett!
In the end, Marissa's wedding dress, which her mother had worn 38 years earlier and already held so many memories dear, was modernized and did its fair share of adding memories to the legacy. Maybe one day Marissa will have a daughter of her own to reimagine this dress and add her own memories to its amazing story!
If you haven't already, go back and read the first two installments to follow the evolution and process for modernizing the dress.
 Cheers!
Jenna Collection 2019 Sale 70% Off Title for image