Marissa's Wedding Dress Transformation - A New Life!
Posted by AMIT SUTHAR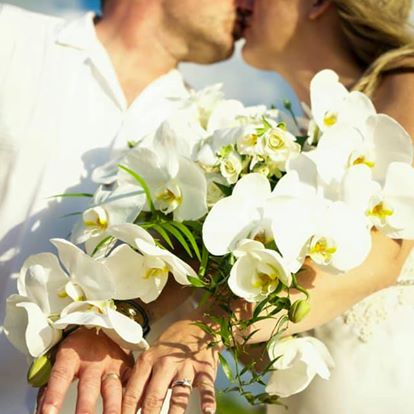 Let's dive into Part 2 of the transformation that was Marissa's wedding dress.
A quick recap. Step 1: She nailed down the plan for a destination wedding in Hawaii. Step 2: She went to a wedding dress shop with the bridal party and family to do the traditional right of passage that is choosing a wedding dress. Marissa tried on several styles of dresses. While she found many styles she liked and thought she could wear, she just never tried on one that was "the one." Her thoughts just kept coming back to her mother's dress and the sentimental value it held. And so it was decided!
Marissa and I met to go over the things she wanted in a dress and to brainstorm how her mom's dress could fall into that category. She knew she wanted something that was lower cut in the front and the back, deep "V" perhaps, with narrow straps. Lucky for us, hiding under some of the sheer overlay, those elements already existed in her mom's dress.
So I began with a simple step. I took out the sleeves and took the sheer panel off the top. Voila!! She had a dress with a deep "V" and something with narrow straps!
The transformation was an instant modernization. Marissa was able to see, immediately, a dress that was more modern and more her style!!
A few other minor structural and stylistic choices had to be made. Did she want to leave the lace hanging over into the neckline or replace it so there was a straight edge on the "V"? Did she want to lower the scoop in the back? Because the dress previously had sleeves, the arm hole was narrower than it would be if the dress had been created originally as a sleeveless dress. So we hollowed out the arm hole to make it more comfortable, which in turn made the straps narrower ... which is what she wanted anyway.
Marissa also had to make a decision about the length and the train. With a beach wedding, did she want to remove the train and shorten the length (maybe make it tea length) to accommodate? Ultimately, she made the decision to keep the original length and the train. We compromised with adding a bustle to make it shorter for dancing at the reception . She also added a crinoline to give it some volume.
Creatively, we decided it would modernize it and give it a little sparkle by adding beading to the lace. Marissa knew she didn't want to go overboard with the bling, so we kept it simple by hand-beading the existing lace instead of replacing the lace with bling-loaded modern lace appliques. Marissa also added a narrow rhinestone belt for a little added touch of modernity.
When all the changes were finished, I wanted to add something a little personal to tie these two dresses together: the original dress that had been worn by her mother in 1982, and the new updated dress that was taking on a new life as Marissa's modern wedding dress. Marissa and her mom are very close, which is why it was such a special sentimental choice to wear this dress. I took a piece of the dress we had cut out, created a heart-shaped applique, and embroidered it with her mom's initials and wedding date to keep her mom close to her heart. It was the secret finishing touch to tie the memories this dress held for both women. It also gave Marissa her something old and her something blue!
The dress was complete ... now all we needed was a great trip to Hawaii for this long-awaited destination wedding! June 2020, here we come!!!
And just like that ... the needle was dragged across the record ... the coronavirus pandemic hit, and we went into a worldwide lock down in March 2020!
Stay tuned! In the final installment in "Marissa's Wedding Dress Transformation," we will reveal what happened to the dress and to Marissa & Brett's dream wedding in Hawaii. All the "pandemic" brides will sympathize.
*Hint* the heartbreak turned into something more amazing that she ever expected!!
Cheers!
Jenna Collection 2019 Sale 70% Off Title for image