Classic Style
Posted by AMIT SUTHAR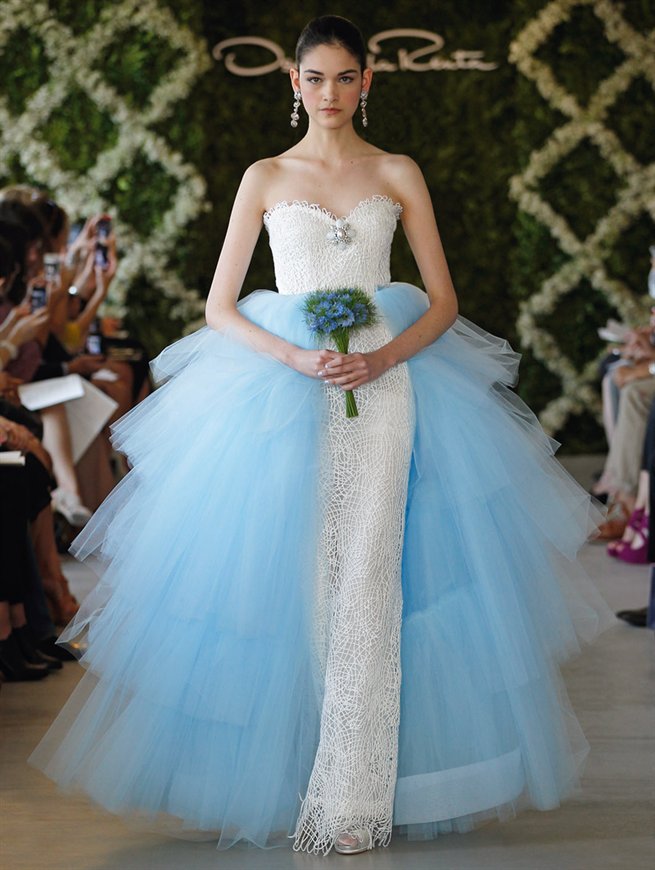 Several weeks ago I was cruising Pinterest, which I do way to frequently. I am officially addicted! Some of my favorite topics to search are high fashion, evening gowns, or wedding gowns. No surprise there. This picture of an Oscar de la Renta gown popped up on the screen. I am a huge fan of Oscar de la Renta's clothing, because his style represents all the things I feel make a great timeless piece.
Oscar de la Renta, Bridal Collection 2013 
I was immediately drawn to it. Not because it is a beautiful gown (because it is). I was drawn to it because it immediately took me back to 1988 and my prom dress for that year. I have mentioned many times before that my mom is a seamstress as well. We would always begin months, sometimes an entire year ahead gathering an idea file of pictures pulled from magazines, and sketches combining ideas of things we'd seen here and there. Our ideas were the paper trail precursor to Pinterest. There were even occasions where we would go into the elite most expensive stores in town to drool over designer gowns.  Most often than not we were asked to leave because something about us just said, we weren't going to buy (Yes, Pretty Woman snobbishness did exist). Mom and I would just stand outside the store and sketch the designer gowns in the window for our file. Somehow, it felt like we were "showing them"!
Well for 1988, here is what we decided on:
Still my favorite of all the prom dresses my mom made me! This was before the days of pre-made beaded fabric, at least not that we could afford. So my mom hand sewed beads and sequins all over the entire dress (she really loves me!)
Hopefully you see the similarities between it an the Oscar de la Renta dress. Instead of a big tulle train, I had a simple sash of the same color. The way I chose to tie the sash is a sign of the time period. Also, it was a chilly April night in North Carolina, so the bolero she made for me to wear over the dress is absolutely dated 1988. I just can't help but feel if you re-postioned the sash (
into a bustle perhaps
) you would have no idea when this dress was made.
This brings me to the concept on which Lily Shane Bridal is based. Growing up my mom had a cedar chest full of clothes she had made for me and my brothers. They were all very classic in fabrics and style, and are all still wearable to this day. I am extremely passionate about creating clothes that are classic, traditional and timeless. I want the people that buy Lily Shane Bridal clothes to be able to put them up in a keepsake box, once their children have outgrown them, be able to pull them out 20 years later for their grandchildren… and they still be wearable, relevant pieces of clothing.
Thanks mom for teaching me everything I know! If I do say so myself (Oscar de la Renta), we were ahead of our time! And even as a teenager in 1988 I wanted something no one else was wearing at that time. Some things never change.
Jenna Collection 2019 Sale 70% Off Title for image